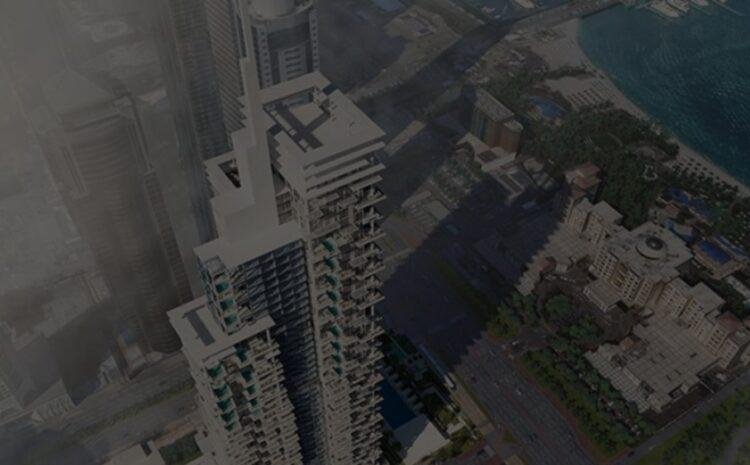 Cavalli Estates by Damac is a new residential development consisting of 200 branded villas located in the highly sought-after DAMAC Hills neighbourhood of Abu Dhabi. The interior design of the residences will be inspired by the Roberto Cavalli fashion house, which is world-renowned for its fashion designs.
Welcome to a style of life that celebrates the beauty in a community recognized for its exclusivity aura; this is your home. Cavalli has created a luxurious residence that can only exist.
In the heart of DAMAC Hills, these spectacular six- and seven-bedroom houses ooze bold expression and undeniable luxury, displaying the trademarks of classic Cavalli – loyal to the house's illustrious tradition of splendor and style.
Cavalli Estates by Damac was designed for luxury connoisseurs who challenge the limits of their imagination with features such as the great outdoors, a built-in elevator, walk-in closets, a private infinity pool, and a beach in your backyard, a world-class community to call home, and much more. Discover 18,000 sq. ft. of sheer luxury when you discover Cavalli Estates by Damac, where you will experience infinity.
Discover the Unexpected
A new residential development consisting of 200 branded villas located in the sought-after enclave of DAMAC Hills, Cavalli Estates, is set to open in 2018. The houses will be designed by Roberto Cavalli, the world-renowned fashion house, in a way that will test any imagination. The luxury villa complex, which DAMAC Properties are constructing, is now under development, and an approximate completion date will be announced later.
The expansive villas with 6 and 7 bedrooms are available in the premium complex, with property sizes ranging from 11,317 to 17,531 square feet. Depending on the unit, there will be a choice of five or twelve parking spaces on the basement and ground levels of Cavalli Estates Villas in DAMAC Hills.
Among the features of the homes will be separate living and dining areas for formal and family gatherings that will connect to your outdoor space, in addition to a naturally-lit basement that will open up to the courtyard, which can be converted into a cinema room, home gym, games arcade, or wellness spot.

Comfortably Transition into the Outdoors
Step outside and take in the lush green spaces that seamlessly blend stunning views with the beautiful blues of your private infinity pool, guaranteeing that you have the best of both worlds. Planning garden parties, taking advantage of a private waterfall, or swimming to the edge of the water are all things you may do to fall in love with the great outdoors.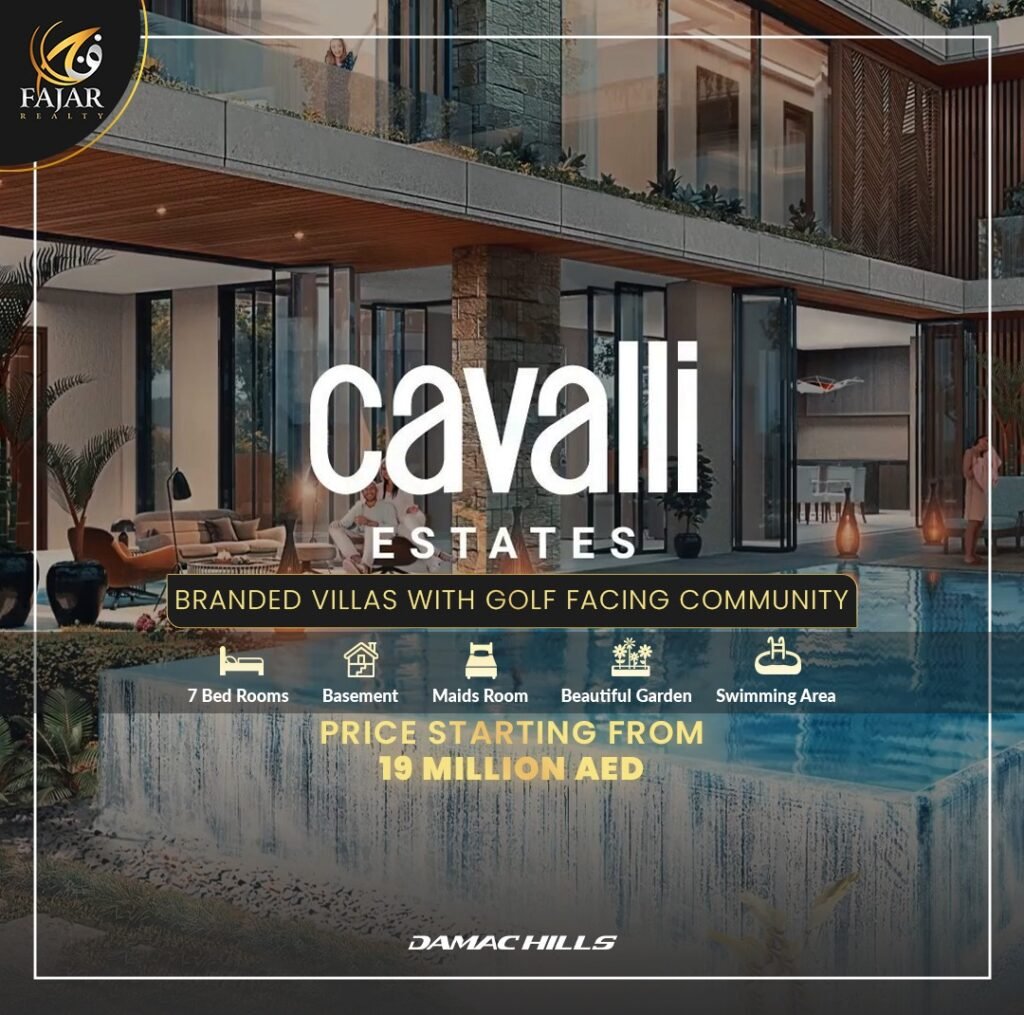 High Caliber Amenities of Cavalli Estates
In addition to its excellent location within the DAMAC Hills golf community, the Cavalli Estates by Damac upscale complex offers residents convenient access to sports facilities, gourmet restaurants, an exclusive Malibu Bay wave swimming pool, lush gardens, and a variety of other amenities.
There is a well-developed infrastructure in the DAMAC Hills community, where Cavalli Estates Villas is located. This infrastructure includes the Jebel Ali International School, the CreaKids Nursery, the Carrefour and Spinney supermarkets, a Community Center and a variety of dining options, among other things. There is also a diverse selection of amenities within the surrounding area, such as the Ice Rink and Pet Farm, a fruit park, the Wadi Fountain, and various lakes, including a fishing lake, to enjoy and explore.  Because of its expansive floor plans and the community's family-friendly features, the brand new Cavalli Estates by Damac villas are an excellent choice for large families with children.  In exchange for purchasing a villa in this development, you will receive an exclusive sumptuous mansion with a creative design by Roberto Cavalli, the world-renowned fashion house.
Living in the Cavalli Estates complex in the DAMAC Hills community is incredibly stunning. It provides you with a memorable living experience because of the exceptional amenities surrounding your house in the community.
Ø  With a World of Convenience
Prepare to be surrounded by everything you need, right in your backyard, from farmer's markets and outdoor movie nights to an activity-packed community centre, petting farm, and stables, among other amenities. We have a variety of sporting facilities where you may participate in your favorite activities or go groceries shopping regularly. Also included are an extended family care center and a reputable school, making it the ideal location for you and your entire family to settle down.
Paralleled Connectivity
Residents of Cavalli Estates by Damac enjoy convenient access to the Trump International Golf Club, sports facilities, gourmet restaurants, the unique Malibu Bay wave swimming pool, gorgeous gardens, and much more, thanks to their location in the DAMAC Hills golf development. You'll have access to an abundance of high-end amenities and services when you stay in one of the villas in Cavalli Estates.
In addition to a built-in lift and separate apartments for housekeepers, your multi-story mansion has distinct living and dining areas to accommodate formal and informal family gatherings. Your dream home just got even better, thanks to the addition of a basement window that looks out over the courtyard. Make it into a movie theatre, arcade, home gym, or wellness centre, and watch as it quickly becomes the most popular gathering place in town.
Bold expression and unmistakable grandeur burst forth from these spectacular rooms, showing the exquisite traits of classic Cavalli Estates by Damac at its trendy best.