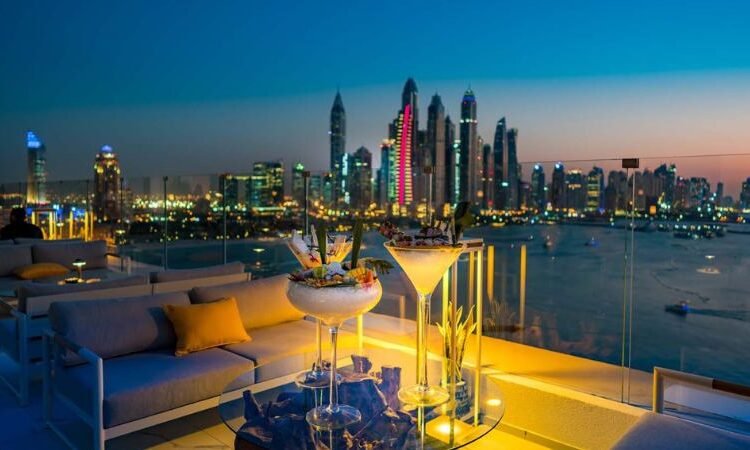 Dubai's Luxury Property Market Soars, Powered by Record-Breaking Penthouse Deals
Staff Writer: Khaleej Times
September 14, 2023
The high-end luxury segment has been driving the unprecedented demand for Dubai luxury property market in the post-pandemic period. Prices have reached record levels in the past two years, with high net-worth individuals from new markets such as Western Europe and the US flocking to cash in on the lower rates and high returns.
The landscape of the Dubai luxury property market has undergone significant changes. A few years ago, only a handful of properties would be above Dh35 million. But the penthouses in Dubai recently set the tone for the growth of uber-luxury Dubai luxury property, with one of the units in Bugatti Residences by Binghatti reaching Dh750 million as wealthy individuals have been actively scouting for safe havens that can safeguard and enhance their investments, providing them and their families a truly world-class lifestyle, high-quality education, and other facilities. And Dubai ticks all of those boxes for the millionaires.
Undoubtedly, penthouses are considered a status symbol and a trophy asset. Global investors continue to exhibit a keen interest in Dubai's exclusive real estate offerings. Besides being a prestigious address, they also offer residents magnificent views of the city and some of the most luxurious amenities and features, offering an enhanced living experience.
Petri Mannila, head of luxury, Penthouse.ae, attributes unprecedented demand for luxury property in Dubai to prevailing uncertainty in affluent countries, pushing investors to buy assets in the emirate, resulting in a shortage of luxury properties here.
"We have seen over 75 percent of our buyers relocating permanently to Dubai, viewing the city as a safe and stable place to live and work. We are witnessing very strong demand for ultra-luxury properties from Europe's traditional prime source markets and the CIS. We are also just beginning to see the return of investors from previously closed markets like China and greater interest from UHNWIs from the Americas," says Mannila.
Apart from high-net-worth individuals and entrepreneurs, institutional investors, and family property funds are driving demand for luxury properties of over Dh20 million, resulting in a shortage of available units for both end-users and investors in the market.
"Also, there was a freeze in new projects during COVID-19, which caused a shortage of these luxury properties. However, new units are now entering the market to cater to the tastes and requirements of their owners."
DEVELOPERS TAPPING PENTHOUSES
As demand for penthouses stays strong, developers are increasingly tapping this section to meet demand for high-end units.
Nabni Developments, a Dubai-based leading real estate development company, has announced that its latest venture, Avenue Residence 5, will have penthouse units for the first time in Al Furjan.
"Al Fujran is increasingly getting more premium and demand. It is the area targeted by families looking for future homes and proximity to many signature locations or attractions," said Khalid Al Jaziri, chief commercial officer, of Nabni Developments.
"We are thrilled to introduce penthouse units in this vibrant community, offering an elevated lifestyle to our discerning residents. We believe Avenue Residence 5 will set a new standard of excellence in the real estate market," said Al Jaziri.
Recognizing the escalating demand, developers are responding by incorporating more luxury and exclusive features to their developments to cater to their high-profile clientele. These include, in some cases, private elevators, pools and access from parking and lobby, concierge services, valet parking, and so on, in addition to the customized interiors to suit the owners' tastes and requirements. , most penthouses also offer magnificent panoramic views of the city in addition to offering its residents the utmost safety, security, and privacy.
WHO IS BUYING AND WHERE?
The price of a penthouse depends on the amenities and other luxury features in the unit, generally ranging from Dh5,000 to Dh15,000 per square foot.
"We have seen a mix of nationalities purchasing these super-luxury penthouses. There is greater interest from Indians for properties around the Downtown area while Europeans, Russians, and Emiratis tend to pick up penthouses with beach access," added Mannila.
Recently, Penthouse. ae, which caters to properties valued at Dh15 million and above, set a record for the highest price per square foot for a property on the Palm Jumeirah. The deal, at Dh 12,387 per square foot, was the second highest in Dubai after an apartment in the Bulgari Resort and Residences that was sold for Dh13,543 per sq ft. The three-bedroom duplex apartment in the Royal Atlantis was sold for Dh44 million.
In terms of areas, Palm Jumeirah, Dubai Marina, Downtown, Bulgari Residences in Jumeirah Bay, and Marsa Al Arab are some of the prime locations for penthouses in the emirate.
Most of the penthouse buyers, as expected, are end-users, although there are a small number of investors seeking to capitalize on Dubai luxury market segment, which has grown by over tenfold since 2020. "In fact, in the first half of this year alone, we have nearly matched the total number of deals in the $10 million-plus segment compared to the whole of 2022," added Mannila.
DOUBLE-DIGIT RETURN
The greater the demand, the higher the price. This aptly fits Dubai luxury property market segment, especially penthouses and villas. Prices of the two categories have already increased substantially, and the trend is expected to continue in the medium term as demand continues unabated.
"With supply constrained and prices maintaining an upward trajectory, the current window of investment opportunity is exceedingly promising. Dubai luxury property market has witnessed substantial double-digit growth in the first half of this year, with a positive outlook forecasted for the next 3-5 years," concluded the head of luxury at the penthouse.ae.