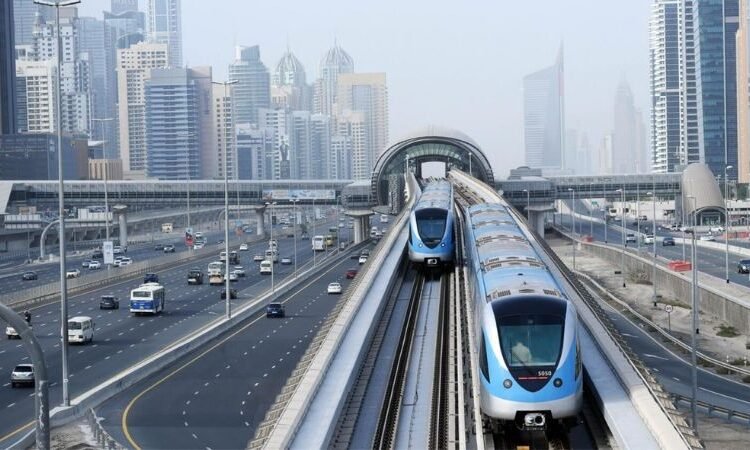 Dubai Metro to have new 30-km Blue Line
Staff Writer:  Khaleej Times
October 30, 2023
A new 30-kilometre track – called Blue Line – will be added to Dubai Metro, Khaleej Times has learnt based on a recent tender issued by the Roads and Transport Authority (RTA) for the design and build of the new line in the city.
Aimed at "meeting the rapid economic and urban growth of Dubai", the Blue Line will provide a link between the existing Red and Green Metro lines. It will have a total length of 30 km, of which 15.5km will be underground and 14.5km above ground.
The Blue Line will have 14 stations: Seven are elevated, including one iconic station; five underground, including one interchange station; and two elevated transfer stations connected to the existing Centrepoint station, the eastern terminus of Red Line in Rashidiya; and Creek station, the southern terminus of Green Line in Al Jaddaf.
More Driverless Dubai Metro Trains
The route, cost and timeframe of the project are not specified but the tender from potential suppliers and contractors also includes the supply of 28 new driverless trains, as well as the construction of one new depot to accommodate up to 60 trains, and the building of all associated roads, facilities and utility diversion works.
Specifically, the winning contractor, joint venture or consortium for Blue Line will work on the following:
> Civil works, including detailed design and construction of architectural and structural components (such as viaducts, tunnels, stations, etc.).
> Design and execution of electromechanical works.
> Design, procurement and delivery of operation and control systems for rail, stations, and facilities.
> Design, manufacturing, and supply of rolling stock (a generic term that is used in the railroad industry to denote anything on rail wheels)
The backbone of the public transport system
Dubai Metro, which first rolled out on September 9, 2009, is recognised as the world's longest driverless metro network with a length of 89.3km. It is the backbone of the city's public transport system, having served over 2 billion commuters in the past 14 years.
Dubai Metro, which currently maintains a fleet of 129 trains, has maintained a punctuality rate of 99.7 per cent and has surpassed international safety standards with its exceptional operational efficiency. It is the main showpiece of Dubai's visionary plan to raise the share of driverless public transport to as much as 30 per cent by 2030.
There are currently 53 stations in both Red and Green Lines. The latest extension project is Route 2020, which runs from Jebel Ali Station on the Red Line to Dubai Expo City. Route 2020 started operations on January 1, 2021.
Meeting rapid urban growth
The Blue Line metro extension is part of Dubai's 2040 Urban Plan, which was launched in March 2021 in anticipation of Dubai's population reaching 5.8 million by 2040, up from 3.3 million in 2020. The city's daytime population is set to increase from 4.5 million in 2020 to 7.8 million in 2040, necessitating a "comprehensive plan for a sustainable urban development".
A major thrust of Dubai's 2040 Urban Plan is mobility. The plan involves placing 55 per cent of the residents within 800 metres of mass transit stations, for them to have 80 per cent of their daily requirements within a 20-minute journey time, including on foot or by bicycle.
By increasing the population density around mass transit stations, the Blue Line project will expand the Metro rail network "to meet the rapid economic and urban growth in Dubai. This project facilitates mobility to Dubai's main urban centres and fosters linkages between main hubs of economic and social activities," according to the tender released by the RTA.
Companies seeking involvement in the Blue Line project will have to submit their detailed proposals no later than November 24.