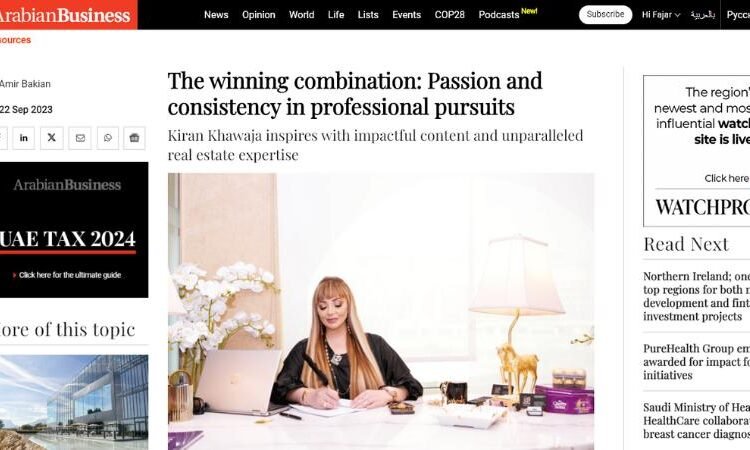 The Winning Combination: Passion And Consistency in professional pursuits
Staff Writer: Arabian Business
November 10, 2023
Kiran Nadeem Khawaja, CEO of Fajar Realty, has been creating content that stands out in a world overflowing with transient fads and fleeting moments of fame. The messages stand as a beacon for those who believe in the timelessness of genuine passion and consistency, attracting a loyal following. Where passion is inadvertently coupled with a fickle resolve, Kiran found a way to combine it with an intelligent approach, manifesting in tangible results. Readers take notice and continue to learn from the wealth of wisdom she has to offer.
According to Kiran, there's a symbiotic relationship between your inner fire and disciplined action. Together, they forge the strongest armor against challenges. This poetic understanding of the importance of unleashed emotional drive with the careful and calculated implementation of action creates outstanding and unparalleled levels of success. That's why readers of Kiran's content are soaring in achieving their goals and why they can't stop reading the words of this accomplished woman.
Through stirring tales and enlightening insights, Kiran and the team at Fajar Realty hope to kindle a flame in their readers, inspiring them to merge their passions with persistent efforts in their professional quests. They cover topics embodying honesty, motivation, consistency, and discipline, values that resonate with their readers on a deeper level than the superficial fluff most content creators dispel nowadays. Fajar Realty inspires and engages its audience with meaningful content by focusing on purposeful advice, helping enhance each reader's ability to thrive.
When it comes to information, readers always want to consider the source, and understandably so. Kiran and Fajar Realty proved to be reputable resources when considering their achievements, experience, and the efficacy of their advice. Fajar Realty showcases real estate offerings in Dubai that are second to none, embodying the rapidly growing company that readers tend to trust.
And this success hasn't come without accolades. From a certificate from Asia Business Outlook as one of the Top 10 Most Promising Global Leaders from Pakistan in 2023 to the Beingshe Excellence Best Real Estate Broker in 2023, Fajar Realty is making waves this year. Not to mention, Mea Markets International named them Best International Real Estate and Excellent in Client Service for 2023, and the company was recognized at the Azizi Agents Awards and Gala of 2023, Emaar token of Appreciation and Damac Top Performing Agents. Additionally, they were given the Menaa Leadership Award for 2023 and many more. Needless to say, the approach utilized by Fajar Realty described through their content is unignorable and effective.
This is because Kiran stands out from other real estate professionals. During a 17-year journey in the industry characterized by a relentless pursuit of excellence and a strong work ethic, Kiran focused on continuous learning. With passion and consistency, she ventured toward the success Fajar Realty experiences today. Now that her story has culminated at a peak, Fajar Realty focuses on creating content that inspires others to strive for their own personal and professional growth, seizing every opportunity that comes their way.
You're invited to read about Kiran's experiences and discover what makes Fajar Realty stand out in a flood of real estate companies mimicking each other's cliches. 
Fajar Realty
 is on Instagram as well as Kiran Khawaja's personal page. You can catch Kiran Khawaja's exclusive interview on the National TV of Africa on Instagram as well. Check out this exceptional content to get inspired to take your journey to the next level!