Townhouse for Selling in Dubai – 2022 | Fajar Realty
Best Townhouse for Selling in Dubai
Expats from all over the world flock to Dubai because of its multicultural atmosphere. Dubai is home to more than 200 different nationalities. As a result, the emirate's real estate market is one of the most significant. People from all around the world are trying to find a place in Dubai. The townhouse for selling in Dubai is famous for young couples and families. Many investors prefer townhouses over villas in Dubai because they are cheaper. Several well-known developers have introduced townhouses in Dubai, including Emaar, Dubai Properties, Damac Properties, and others. There will be many more after that. The government of Dubai has developed several programmes, such as the Golden Visa, to encourage more people to invest in Dubai.
Dubai is a great place to live, work, and invest because of the year-round warm weather and lavish amenities. Renters in Dubai are now thinking about buying a townhouse. There are several advantages to purchasing off-plan townhouses in Dubai, including attractive payment options and other perks. Pay as you go options are also available; Dubai townhouses are ready to move into right away. We at AQUA Properties know where to look for Dubai townhouses for sale off-plan.
If you're looking for ready-to-move-in residences, we've compiled a list of the top townhouses for sale in Dubai. Alternatively, you may discover more about various choices for purchasing a townhouse in Dubai, such as mortgages, on our website or by contacting one of our knowledgeable advisers. Serena, Arabian Ranches, Reem-Mira and Mira Oasis, MBR City, Dubai Creek Harbour, and others are popular locations for townhouse purchases in Dubai.
What's the Difference Between Freehold and Leasehold?
In Dubai, leasehold and freehold property ownership is a confusing topic for many first-time purchasers and investors from outside the United Arab Emirates (UAE). Consider these two parameters before deciding on any townhouses for sale in Dubai. Foreign ownership of the real estate in Dubai had been impossible before 2002's sweeping law reforms.
New legislation has made it possible for ex-pats and international investors to own a house in Dubai. Freehold or leasehold townhouses for selling are available in Dubai. Some places and developments in Dubai allow for freehold ownership. A freehold townhouse for sale in Dubai gives you complete ownership of the property. It's only after receiving a title deed that the owner may begin to use his new house for any of the above purposes. Many investors want to own their properties on a freehold basis. Freehold developments currently account for the vast majority of new construction.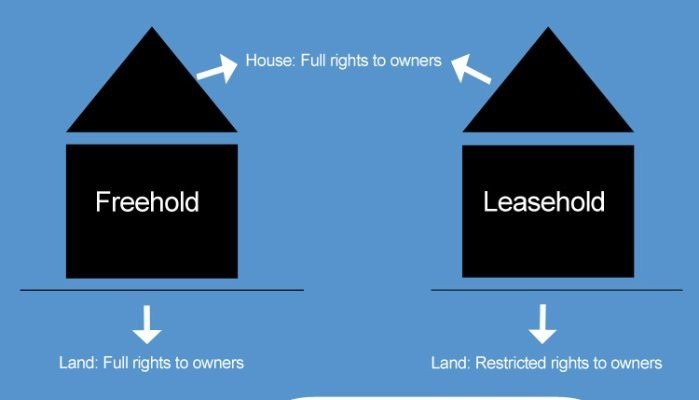 For leasehold ownership, on the other hand, the property is yours to use and enjoy for a term of 99 years or more. The freeholders, on the other hand, retain complete ownership. The same may be extended once the leasehold contract has finished. If you want to make any modifications to the property, you'll need the permission of the property's freehold owner.
There are no restrictions on purchasing for Emirati nationals. They have the option of purchasing Dubai townhouses with a lease or a freehold. Some popular freehold regions in the United Arab Emirates, including Serena, Arabian Ranches and Mira, Mira Oasis and Tilal Al Ghaf. For example, Jumeirah is a leasehold area, but some of the community's developments are for sale as freehold.
Variety of Townhouse for Selling in Dubai
Even while Dubai is most known for its skyscrapers, the emirate also has several villas and townhouses to choose from. Furthermore, townhouses in Dubai are becoming increasingly popular among inhabitants who formerly lived in flats. They like to have more room, solitude, and open places to roam about in. Townhouses for sale in Dubai are in high demand as an alternative to villas. The quality of low-rise living has never been higher than in Dubai's townhouses for sale. Most townhomes are multi-story and linked to another townhouse in the neighbourhood. There are, however, a few gated communities that are independent of one other. They come in various designs, sizes and layouts when it comes to the townhouse for selling in Dubai. Arabic, Mediterranean, and modern are the most popular styles. Residents have access to a swimming pool or a private garden or backyard in certain circumstances.
Unfurnished Townhouse for Selling in Dubai
The townhouse for selling in Dubai is unfurnished (with some exceptions). Townhouses with two to five bedrooms are available since they are geared for families. In specific neighbourhoods, you may also find one-bedroom townhouses. Private outdoor swimming pools aren't uncommon, as are gardens. For the convenience of the residents, the building has a laundry room, a storage room, and a maid room.
The Valley, Tilal Al Ghaf, Mohammed Bin Rashid City, Damac Hills, Arabian Ranches, and Villanova in Dubailand are popular choices for investors searching for off-plan townhouses for sale in Dubai. There are two types of townhouses for sale: those that are attached and those that are semi-attached. Corner plots are the most common location for semi-attached townhouses in Dubai.