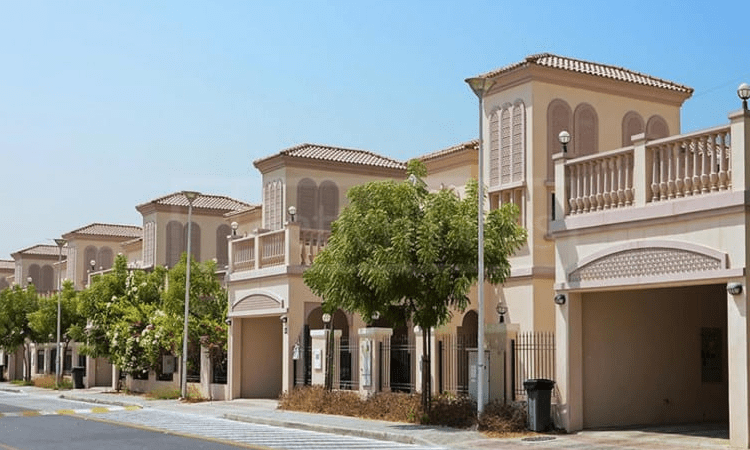 Best Townhouses to Sell in Jumeirah Village Triangle – Fajar
"Best Townhouses to Sell in Jumeirah Village Triangle" JVT, a Nakheel-developed master complex, is a top choice for those needing townhouses to sell in Jumeirah Village Triangle, villas, and flats in the Jumeirah area. JVT is a fantastic alternative for individuals looking for cheap houses near major roads since it has parks, sports courts, and other family-friendly facilities.

You may choose from one- to three-bedroom townhouses to sell in Jumeirah Village Triangle if you seek a cosy, private home. In contrast, the townhouses to sell in Jumeirah Village Triangle rental villas range from two to five bedrooms. Their vast plot sizes, well-landscaped backyards, and pleasant living quarters make these apartments popular. In terms of long-term value, villas in JVT are attractive to many investors in Dubai Real Estate.
There are few apartment buildings in the neighbourhood, but most properties are villas and townhouses. Ideal for those who want to downsize yet still enjoy the benefits of living in such a lovely neighbourhood, these townhomes are great for you.
Well-Managed and Unfurnished Townhouses to Sell in Jumeirah Village Triangle
Property Type: Townhouse
Bedrooms:1
Completion: Ready
Property size:1,938 sqft / 180 sqm
Bathrooms:2
Description
This one-bedroom townhouse is to sell in the Jumeirah Village Triangle neighbourhood in Dubai's 8A district.
Unit Details:
This is a vacant position.
Take a look at this:
Kitchen: Open and Fitted with All Necessary Appliances
Toilets (total): 2
Places to park: 1
area covered by the structure: 1938 square feet
Plot Dimensions: 1938 square feet
Furnished: No
Features:
*Research
Garage on your own.
Ample outside space
Convenient to the shopping centre
Eateries
Shops in the retail sector
coffeehouse /
The park is open.
It is estimated that around 6,000 homes in the Jumeirah Village Triangle development will be available for sale or rent. Several services and contemporary conveniences are available in the region, including 24-hour security and several open areas.
Upgraded into 2bed | Biggest Garden | Upgraded Interiors
Property Type: Townhouse
Bedrooms: 1
Property size: 1,989 sqft / 185 sqm
Bathrooms: 2
Amenities
Unfurnished
Balcony
Pets Allowed
RERA Permit Number 6511835500
Study
Description
This property's photos are up-to-the-minute and authentic. Please peruse the whole page for a comprehensive look at everything we have to offer. Requests for video walkthroughs will be honoured.
An 80,000 one-time rental fee is due until July 2020. Personal usage customers may provide a vacating notice.
Ideally situated near a park in JVT,
Nearby Parks
Tennis and Basketball Courts are nearby.
Al Khail Avenue is within walking distance (New JVT Mall).
Greatest Garden Layout (12.7m x 6m).
Parquet ceramics flooring was installed in the previous tile on the ground level.
She added stone cladding to the walls of the living room.
The kitchen with room for a big refrigerator has been upgraded.
Built-in cabinets/wardrobes in the second room with mirror sliding doors added to the second bedroom.
Under the stairs, there is a large storage area.
There are waterproof planters all over the place (with irrigation lines).
Gazebo
On the terrace, there is a large storage shed.
Total floor area: 1,989.17 square feet.
Pet-friendly
The Jumeirah Village Triangle is a green, sustainable development that provides a peaceful environment. This quiet area is regarded as one of Dubai's best places to raise a family. The villas and townhouses are planned to be big in square footage. Houses come in various layouts, but they all have generous lot sizes. The front and rear gardens of the villas and townhouses in Dubai give additional outdoor space for residents.
Jumeirah Village Triangle is a family-oriented community, and its inhabitants enjoy both convenience and comfort as a result. Nearby are a variety of establishments, including retail stores and restaurants, health clubs, and spas. Community parks with water attractions like ponds and fountains may be found throughout the region, with more than nine.
Five tennis courts are located in each of the community's most popular sub-communities, as well as a few district gardens that offer grilling areas. JVT is also home to a sports facility named Dubai Football Academy, which serves as a refuge for local athletes, particularly those who want to pursue a career in football.