Smart Homes – The Big Wave in Real Estate
Internet-enabled devices monitor and control appliances and systems, such as lighting and heating, in a "smart home." Demand for smart home technologies in the United Arab Emirates is expected to increase over the next several years. New residential developments in Dubai are increasing the demand for smart home systems, and this desire will only grow as the market for this cutting-edge technology continues to fall.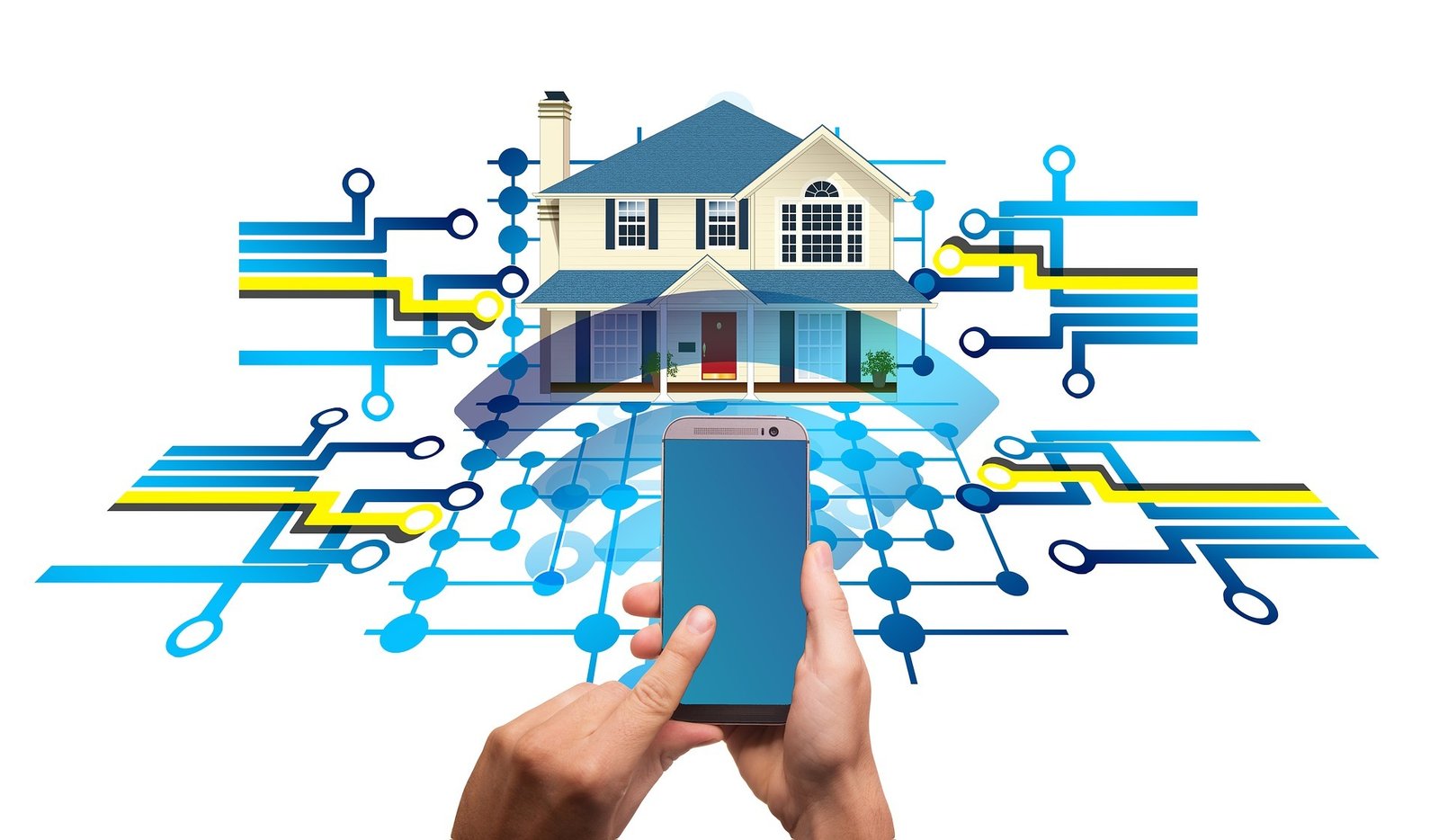 Using a smartphone, you can operate all of your home's smart features from any location because they are all integrated into a single system. Home automation, monitoring, and networking are all components of "Smart Homes" that you might want to include in your own.
1. Using the Internet to Share Information at Smart Homes (Internet)
Multiple devices can access the internet simultaneously, both inside and outside of your home, thanks to home networking. With high-speed broadband, numerous people can be online simultaneously in your house.
2. Service for Automated Households
Automating your home can help you save money on your DEWA energy bill because it automates much of your equipment. There are many ways you can control your home's lighting and air conditioning and the locks and unlocks of any doors. Smart home devices, remotes, and sensors are used to implement this technology.
3. Monitoring from the Comfort of Your Residence
The devices in your home can be controlled manually with the help of Home Monitoring. Cameras and sensors can be used both inside and outside the home to keep an eye on the properties in Dubai. There are sensors installed in the home that notify owners of temperature and moisture levels changes. Thanks to this feature, owners may monitor what is going on at home at any time
4. Convenience
People are buying smart homes for the convenience they provide. Heating and air conditioning systems, multimedia gadgets, and music may all be controlled from the comfort of a user's smart home. Homeowners may hear sounds in any part of the house and communicate with visitors at the door, thanks to this new technology. Residents who are disabled or old may benefit from innovative home technologies. Locking doors, dialling a number or dimming the lights in a room are all possible with voice-activated controls. Homeowners with access to advanced technology can programme automatic watering of their lawns, reducing the need to switch off the water manual.
Advanced security systems, such as cameras and motion sensors, are built into smart houses to detect unauthorized entrances and exits. Smart home packages may include fingerprint-based locks, making it more difficult for burglars to get into your house.
5. Efficacy in Using Energy
Your DEWA energy cost may be reduced as a result of smart homes. When no one is home, lights can automatically turn off. Depending on the time of day, the thermostat can be set to a specified temperature. The usage of electricity and water will be reduced, resulting in less waste due to these environmentally-friendly automated services for the home.
6. Increased Resale Value
Prospective house buyers will be drawn to the sellers' many selling factors. The system's characteristics and how smart homes improve efficiency, accessibility, and security can be discussed by homeowners. Your home will stand out from the others because of its energy efficiency and practicality. The popularity of smart homes is expected to rise in the United Arab Emirates. Because of the low property costs and the rapidly expanding population in Dubai, the real estate market favours purchasers.
The term "smart house" refers to various technologies that go beyond simple automation, such as home security systems, air conditioning systems, and washing machines. This allows people to control and interact with their gadgets over great distances, making it easier and more convenient to do their work. Smartphones can control all of a person's devices, reducing the need for various switches, buttons, or remote controls.
Residents' and developers' perspectives on real estate are set to be transformed by this example of Industry 4.0 in real estate.
7. Faster Time to Market
There is no universal formula if you want to know how quickly your property will sell. The location, condition, and listing specifications must all be considered. Properties with smart-home technologies are selling quickly due to an increased interest among prospective homeowners in technological solutions. Buyers don't have to worry about purchasing and installing smart-home devices if they buy pre-installed smart-home equipment in their new home!
8. Enhanced Marketability
If you're looking for a home, the resale value is likely to be one of the most critical factors. Smart-home technology has had a substantial impact on the resale value of smart homes. Considering that the value of a home is determined mainly by the facilities it provides, this isn't a big surprise. Smart houses can command higher rentals than comparable properties without smart-home technology because of the added value they provide.
9. Appeared Attractive to Millennial
While smart homes were previously viewed as the preserve of the wealthy and famous, advancements in technology have made them more accessible to a broader range of people. Many millennial shoppers are interested in smart home technology because they continuously look for ways to improve their lives through technology. When younger individuals enter the housing market, smart home technology provides a way for homes to accommodate their needs. On the other hand, smart devices have a broad appeal to millennials and people of all socioeconomic backgrounds and generations.
10. Real Estate and Lifestyle Co-Merging
Real estate now encompasses more than just a piece of ground, and homeownership is increasingly viewed as a way of life. Smart-home technology has made this connection between lifestyle and real estate even more vital, even though this relationship has existed for a long time. As a result of smart-home technologies, developers are reminded that they must consider the property's location and size and its amenities. There is a growing desire from buyers today for residences that offer the lifestyle advantages of the latest technological advances.
Smart-home technology has both positive and negative aspects. Additional advantages of smart home technology include improved accessibility and sustainability, and increased convenience. For the elderly and disabled, voice-activated systems are a great option, and adjusting temperature, and lighting controls based on usage can save a considerable amount of energy. To be sure, it's worth considering the initial costs and the risk of a network failure before making the switch to a smart home.
Systems and Sensors
Smart-home gadgets offer a wide range of options, from remote lighting control to smart alarm systems and sensors. Various home automation systems with Internet-connected gadgets are available in Brigade Plus's smart homes, allowing for remote monitoring and management. Making your daily routines more technologically savvy has never been easier or more comfortable. With the advent of smart-home technologies comes an exciting new era of digital innovation. It's time to upgrade your home and enter the digital age.
The most crucial goal of smart homes is to make life more comfortable, practical, safe, joyful, and environmentally friendly. Smart homes used to be the preserve of the rich and famous, but that is no longer the case. The cost of innovative home technology has dropped to the point where nearly every ordinary house has an automated system. Home automation is a sought-after solution to make homes safe when they are unattended.
The proprietors will allow this for extended periods, either during working hours or on vacation. The safety of children and the elderly may be monitored remotely via smartphone apps thanks to innovative surveillance technologies. Smart security measures and well-built security at the project level are already standard in modern townships.