Top 10 Dubai Communities Where You rent a Villa or Townhouse
Top 10 Dubai Communities Where You Rent a Villa or Townhouse
"Top 10 Dubai Communities Where You rent a Villa or Townhouse" Residents of Dubai are increasingly choosing to live in townhouses. You want Dubai to be your home. Its because your circumstances change as time goes on. Moreover, you get more settled in the city. Many ex-pats are accustomed to semi-detached, or terraced homes in their home countries. In addition, they are exactly what they crave and hunt for after their first few years in Dubai's apartment buildings.
As a first step toward villa living, townhouses in Dubai are an excellent option. If you're used to living in an apartment a sprawling villa with a garden could seem overwhelming. However, a townhouse is an excellent starting point for your home away from home.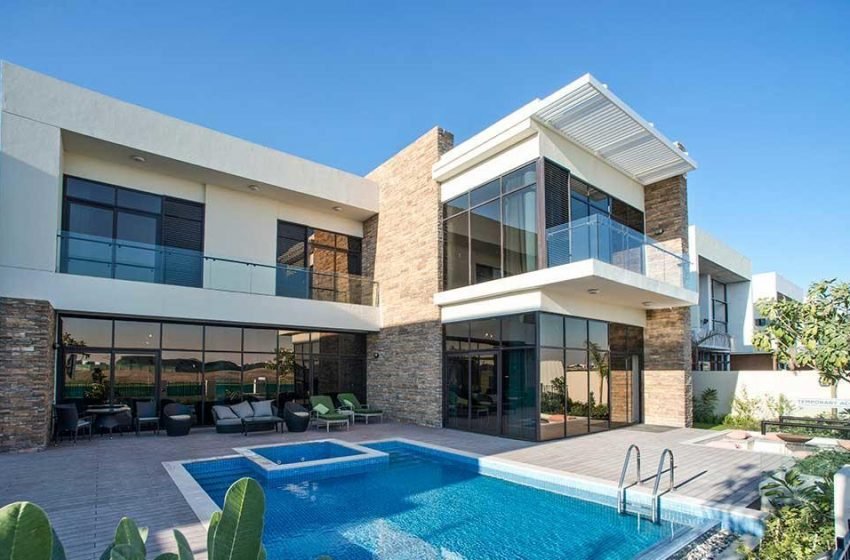 The following are our best selections for townhouses or villas in Dubai:
1. DAMAC Hills
Finally, DAMAC Hills, one of the most sought-after gated communities in Dubai, rounds up our list. Its not only of urban architecture but also lively atmosphere characterize the neighbourhood. However, it is a residential gated community located away from the bustling city centre. Moreover, It is one of the greenest communities in Dubai. Community amenities, such as playgrounds, pools, and gardens, are available to all DAMAC Hills residents.
Properties at DAMAC Hills include villas as well as hotel flats. 3-bedroom villas in DAMAC HILLS rent for an average of AED 128k per year, according to the average rental costs in the area. A 5-bedroom home for rent in DAMAC Hills, on the other hand, costs an average of AED 249k per year.
2.Mira
Mira, a townhouse development, is perfect for families who enjoy spending time in and around the outdoors. Tournaments and practice sessions for football may be found in the parks of each neighborhood. As well as in Mira 1, which has a football facility.
Districts in the townhouse-only neighbourhood are numbered from 1 to 5, with Mira 1 being the newest. A type 1E townhouse comes with a study that can be used as a fourth bedroom, and many people do so. Moreover, the children's playgrounds, BBQ areas, and swimming pools are located within each neighbourhood district. Residents of Mira create groups and participate in a variety of activities together.
3. Town Square
Town Square could be the place for you if you're searching for a family-friendly neighbourhood. It's close to everything you need. It has a playground just outside your door. Children's playgrounds and funfairs are popular gathering spots for the community. They're a terrific way to establish new acquaintances.
Town Square consists of three and four-bedroom townhouses in Zahra, Hayat, Safi, Noor, Naseem, and Sama sub-communities. Apartments ranging from studios to three-bedroom units can be found in a wide variety of buildings. Although the community is still in its infancy. It has long-term intentions to become a tiny self-contained metropolis. It would complete with shopping and dining malls and movies, shops, and restaurants.
4. Arabian Ranches
Even if you don't live in Dubai, you've probably been to 'The Ranches' at least once. Arabian Ranches The popular Arabian Ranches Golf Course is located within the community. Moreover, it gives residents the impression that they are miles away from the hustle and bustle of downtown Dubai. It's a great place to raise a family or start a career. It is because of all the nearby conveniences and educational opportunities. In addition, On Fridays and Saturdays, the Arabian Ranches Golf Club restaurant hosts themed nights. They serve a delicious breakfast while the kids play in the adjacent park.
Al Reem, Palmera, and Alma are semi-detached residences with two to three bedrooms. They come in various styles and layouts. It's including some that have maid service rooms and others that back up to parks or lakes.
5. Jumeirah Golf Estates
Jumeirah Golf Estates could be your future home if you picture yourself riding in a golf buggy through a neighborhood. Moreover dotted with luxury residences, lakes, and a PGA golf course. Driving through Jumeirah Golf Estates gives homeowners a sense of being in the middle of a lush green space that exudes tranquility. Families that want to settle here can escape the hustle and bustle of city life in Dubai. If you are a sports enthusiast a more laid-back dining experience can be found at Sports Bar . Breakfast, lunch, and dinner are all served in the restaurant, indoor and outdoor seating.
The Al Andalus and Redwood Park neighborhoods are home to the Jumeirah Golf Estates townhomes. Each neighborhood has a pool and is only a short drive or walk away from the shops and the golf course, where residents can relax and enjoy a meal.
6.Doha Hill City
The affluent neighborhood of Dubai Hills Estates is located in the city's center. A 54-kilometer bicycle route, two metro lines, three hotels, and a mega mall are all part of the new Emaar & Meeras complex. It's ideal for those who enjoy the outdoors, moreover there are large parks and outdoor sports facilities, as well as spectacular views of the Dubai Marina, the Burj Al Arab, and the nearby Burj Khalifa. The Maple neighborhoods in Dubai Hills are home to townhouses ranging from one to five bedrooms.
The Duck Hook restaurant, located in Dubai Hills, is famous for its steak pie, which many consider the best in all of Dubai. Breakfast at Hill House Brasserie is a local favorite, and it's not hard to see why.
7.Jumeirah Village Triangle
The Jumeirah Village Triangle (JVT) sprawling villa, townhouses, and apartments. There are nine districts in the Nakheel development. Each with two-bedroom villas or townhouses. If you're a couple or a family with children or pets, you'll love this location. You can easily travel to Jumeirah Lake Towers (JLT), which is a bustling center of nightlife and dining. As well as Dubai Marina, where you can take in the city's sights and sounds.
8.Mudon
People looking to buy townhouses in Dubai often look to Mudon. Mudon's townhouses, available in both ready and pre-construction phases. They have spacious interiors, dedicated parking spaces, and access to luxury amenities like swimming pools.
Food and beverage establishments and other services such as a pharmacy and a childcare center may be found in the neighborhood. A gated community provides residents with round-the-clock protection, as well.
Mudon townhouses, on average, sell for AED 1.76M for three-bedroom homes, AED 2.52M for four-bedroom properties, and AED 3.11M for five-bedroom properties.
When it comes to rental returns, Mudon townhouses in Dubai. It could be a good investment with an average of 5.6%. To choose a layout that fits your needs, you can peruse the Mudon floor plans.
9.Barsha Heights
BH is a little-known treasure in Dubai's housing market. It includes spacious and affordable apartments. There is something for everyone with a variety of restaurants, cafes, and pubs. This is a lively and energizing neighbourhood. It is because of the many young people who live here.
10.Al Barsha
There are many homes to choose from in Al Barsha. But modern apartment towers are especially popular with young professionals. Many exercise courses are available in the neighbourhood. However, these are for those who want a more sedentary lifestyle. In addition, at the same time, those who prefer a more active evening. They will like the numerous restaurants and lounges to meet new people. Barsha's proximity to the Mall of the Emirates and reduced rentals make it a viable option.