Top 5 Townhouse Communities in Dubai
Top 5 Townhouse Communities in Dubai
If you are looking for a place to raise a family, villa and townhouse complexes in Dubai are a great option. Beautiful homes, golf courses, and beaches are just some of the perks you'll enjoy when you stay at one of these resorts. These gated communities' residences provide a higher level of seclusion and an ultra-exclusive way of life. They offer more amenities, such as larger, more spacious suites, private swimming pools, and more.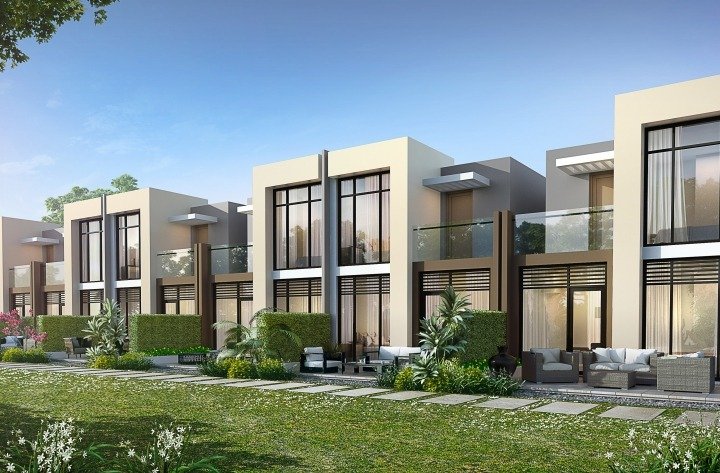 Choosing a neighborhood in Dubai where you can find townhouses and villas for sale is the most difficult part of the process. As a resource for you, we've compiled a list of top 5 townhouse communities in dubai.
1-Arabia Ranches
Arabian Ranches, sometimes known as 'the Ranches,' is one of the first freehold neighborhoods in the United Arab Emirates (U.A.E.). It was made possible for foreigners to acquire a magnificent house in Dubai that they could call their own and have complete control over when the community was launched.
As one of Dubai's most popular neighborhoods, it's a great representation of suburban living. Emaar is the project developer, which features some of the most stunning single-family homes in the entire emirate. Different configurations are possible for these apartments, inspired by Arabian and Mediterranean architecture.
This community has a total land area of over 1,650 acres. On the other side of Sheikh Zayed Road, you'll find a gated community perfect for families. Residents of The Ranches enjoy convenient access to public transportation because the neighborhood is well-served by public transportation.
2-Emirates Living
Emirates Living is also home to a renowned Montgomerie Golf Course, as well as more than 20 parks and lakes. In terms of infrastructure, housing units are up-to-date, and there's a wide range of luxurious amenities available. The "Beverly Hills of Dubai" is aptly named. Depending on your needs and budget, you can find bespoke mansions, cozy apartments, and other types of properties.
Meadows Dubai
The Sprout
Hills of Emirates
The Great Lakes
Hattan
3-Dubai Hills Estate
Dubai Hills Estate, one of the top 5 townhouse communities in dubai, is located along the Al Khail Road, making it easy for residents to go about the city. Al Barsha South and Downtown Dubai, two of Dubai's most popular neighborhoods, are nearby. In addition to apartments and residential plots, Meraas Holding and Emaar Properties have partnered to create this master-planned community divided into several sub-communities.
There are almost 1.4 million square meters of open space and parks in the general area. This location has a calming effect, thanks to the abundance of flora.
One of the largest shopping malls in the United Arab Emirates is located in the Dubai Hills Estate. Over 2700 acres, it's a family-friendly neighborhood with modern living spaces and amenities based on the latest technology and design. It is also one of the greatest places to seek villas for rent in Dubai because of all of these advantages.
4-Jumeirah Golf Estate
There are many residential residences to choose from in Jumeirah Golf Estate, known for its high-end and luxury lifestyle. This eco-friendly community has more than 1,100 hectares of greenery and five gorgeous lakes.
"Fire and Earth," two world-class golf courses in this area, allow it to host the D.P. World Tour Championship. Unimpeded views of lush gardens may be had from the many residential properties situated directly on top of these golf courses. Each of these golf courses is surrounded by a community of its own.
The 'desert concept' is the inspiration for the Fire Course, which includes seven towns. It has a total of 438 residences. Instead, the Earth Courses contains six complexes totaling 606 units, all based on the Mediterranean architectural style.nn In the An Andalus enclave of J.G.E., townhouses, and apartments are available for purchase or lease.
Although J.G.E. provides a wide range of residential structures, Villas and townhouses have been particularly popular. Masterfully planned, beautifully furnished, and packed with the best of the best, these homes offer a luxurious lifestyle for those who can afford them.
Another important element that makes J.G.E. an excellent choice for those seeking a Dubai villa or townhouse for sale is its enviable location. It is close to well-known neighborhoods, including JVC, Sports City, and I.M.P.Z. on Mohammed Bin Zayed Road. The Dubai Metro Extension line has made it easier to get to the city center.
5-Dubailand
Finally, Dubailand is one of the top 5 townhouse communities in dubai. Among the many districts that make up the city are these:
Majan
Tiger woods
Hotel and Polo Club Al Habtoor
FalconCity of Wonders
Living Legends
Dubailand Oasis
Laval
Al Waha
Dubailand is a city within a city, with a total area of 3 billion square feet. In addition to themed adventure parks, the city is home to several other tourist attractions. It's a mix of residential properties in this project by Dubai Properties. The number of bedrooms in a villa can range from two to six, but the number of bedrooms in a townhouse can range from one to four. The interiors of these residences are exquisite, and they feature the most up-to-date conveniences and features.
Fajar Realty is your one-stop-shop for the best properties in Dubai's emirate, with listings for villas and townhouses in various areas.