Top 5 Golf Communities to Buy in Dubai
Top 5 golf communities to buy in Dubai are among the most sought-after developments in Dubai's real estate market for buyers and tenants looking for upmarket family-friendly homes. A community golf club provides residents with access to spectacular vistas of lush green courses and the opportunity to join. Whether you're looking to buy or rent an apartment or villa in a golf community in Dubai, we've listed the most popular properties in the city.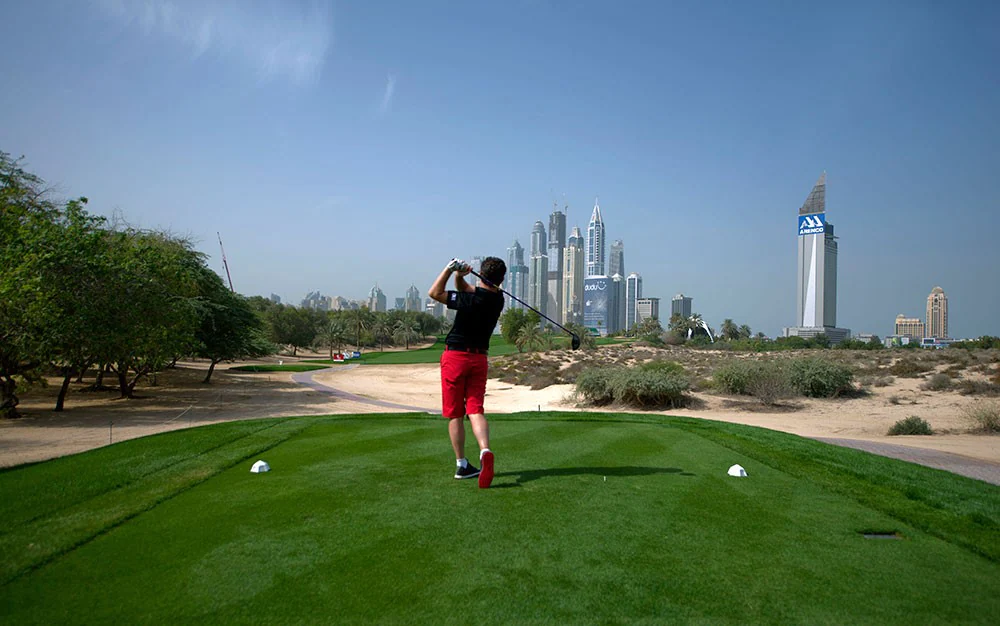 1. Dubai South
Dubai South, a newer, more up-and-coming neighbourhood near the Al Maktoum International Airport, is a popular place to buy or rent a home in Dubai. As one of the most anticipated developments near the Expo 2020 site, Dubai South now has a variety of residential and commercial buildings under construction by various developers.
This vast mixed-use development and one of the most beautiful golf communities to buy in Dubai is located in the EMAAR South sub-community. Golf Views, suitably titled, is an apartment complex that provides beautiful flats with views of the Emaar South Golf community.
One- and two-bedroom apartments in Dubai South start at around AED 240k, depending on the size, making them suitable long-term investments for those looking to buy now. Three-bedroom flats in Dubai South can cost anything from AED 790,000 to AED 2.1M.
However, potential renters can find a wide range of rental properties in Dubai South. Studio flats start at AED 18k, one-bedroom apartments at AED 22.9k, and two-bedroom apartments at AED 30k.
2. The Dubai Hills Estate
Dubai Hills Estate is recognized for its wealthy houses and superb position. EMAAR Properties and Meraas, two of Dubai's most prominent real estate developers, are behind Dubai Hills Estate, a notable golf community in Dubai. On Al Khail Road, Dubai Hills Estate has various housing options, including condos, townhouses, and villas.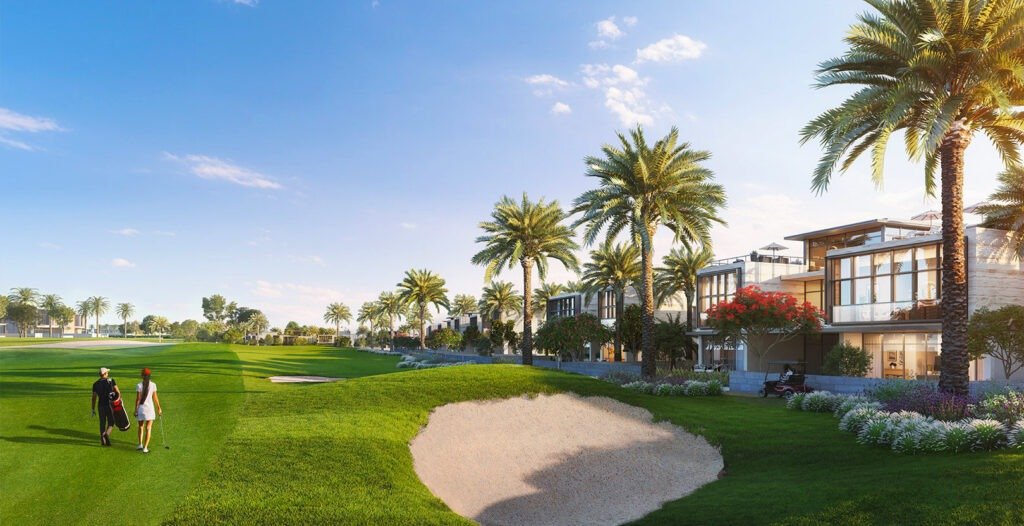 There are 18 holes of championship golf at Dubai Hills Golf Club, which is rated a par-72. As the region is still in its infancy, both ready-to-buy and pre-construction properties are available.
The starting price for one-bedroom flats in Dubai Hills Estate is AED 698k. In Dubai Hills Estate, particularly in Park Heights, renters will have many options for renting apartments. One- to three-bedroom apartments can be found in this complex with numerous community amenities.
3. The DAMAC HILLS
At DAMAC Hills, you can afford to live in a golf community in Dubai. DAMAC Hills, an integrated, family-friendly golf community in Dubai, is located in the heart of Dubailand and features spacious apartments, villas, and townhouses. A par-71 golf community and a par-3 course are part of the Trump International Golf Club. Bellavista, Golf Vista, and Golf Promenade are DAMAC Hills apartment complexes featuring golf communities to buy in Dubai.
Apartments in DAMAC Hills are reasonably priced, allowing prospective renters to enjoy golf communities living at a reasonable price.
4. Jumeirah Golf Estate
Located on Sheikh Mohammed Bin Zayed Road (E311), this large community boasts golf community views and is regarded as one of Dubai's most picturesque.
The gated golf community in Dubai is mainly made up of luxurious villas and offers apartment-style living for those who want it. One-bedroom flats for sale in Jumeirah Golf Estates start at around AED 560k for couples searching for a cosy home. The starting price for a 2-bedroom apartment in JGE is AED 1 million, while a 3-bedroom apartment can cost up to AED 1.6 million. Apartments for rent in gated golf communities in Dubai are available for those who want to live in luxury.
5. Damac Hills2
In Dubai, golf community apartments are available for a reasonable price at DAMAC Hills 2. This golf community's construction in Dubai is located just off the Al Qudra Road (D63).
AED 299k to AED 600k is the typical price range for studio flats in DAMAC Hills 2. DAMAC Hills 2's one- and two-bedroom residences will cost AED 370k and 1.6 million. In Dubai's golf neighbourhoods, buyers and renters looking for villas will be spoiled for choice. Villas are offered in various formats and architectural styles in most golf communities. The best places to buy or rent golf communities villas in Dubai may be found here.
6. Arabian Ranches
Dubai's Arabian Ranches is one of the city's oldest golf communities-side villa complexes, established in the 1970s. It is not surprising that Arabian Ranches has become a popular alternative for those looking for Dubai golf community's villas. There are 15 sub-communities in this family-friendly development, each with its own set of spacious, autonomous villas and nearby parks, schools, and sporting facilities.
In the vicinity of the Arabian Ranches Golf Club, Ian Baker-Finch developed a stunning desert-style championship course. Similar floor plans can be found for the Arabian Ranches rental villas. Starting rents for 3-bedroom, 4-bedroom, and 5-bedroom properties range from AED 115k to AED 319k.
7. Dubai Hills Estate
There are a variety of villas to choose from in Dubai Hills Estate, which EMAAR Properties developed. Sidra Villas, Parkway Vistas, Fairway Vistas, and Maple Dubai Hills are some communities having ready villas in Dubai Hills Estate, while villas in Golf Place and Golf Grove are currently under development. The opulent shell-and-core villas in Dubai Hills Grove are also available for purchase by potential buyers.
Dubai Hills Estate's luxury 3-bedroom villas for sale start at AED 2.6 million. AED 3.3 million is the starting price for the abundant four- and five-bedroom villas in Dubai Hills Estate. You should also be aware of price variations within each sub-community.
The cost of renting a three-bedroom villa in Dubai Hills Estate ranges from AED 169.9k to AED 420k while renting a four-bedroom house is over AED 1.9M. The five-bedroom villas for rent in Dubai Hills Estate start at AED 220,000.
8. The Meadows
The Meadows (aka Meadows) is an established, family-friendly community with independent villas in part of the Emirates Living complex. The Sheikh Zayed Road is just a short drive away from this Dubai golf community.
Additionally, The Meadows has a variety of community amenities, including parks, sporting courts, and a swimming pool. The Meadows has a large selection of villas for rent as well. For 3-bedroom homes, renters may expect to pay AED 260k, and for 4-bedroom homes, AED 290k.