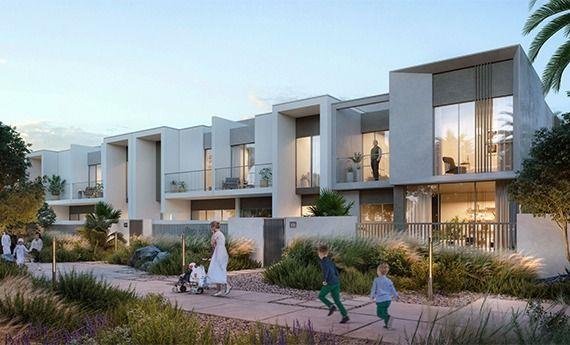 Most Beautiful Communities in Dubai for Villas and Townhouses
Most Beautiful Communities in Dubai for Villas and Townhouses
Dubai is one of the most picturesque cities in the UAE. Moreover, it doesn't matter if you're a local or a tourist; the city provides something for everyone. Everyone has the pleasure of picking from a wide range of magnificent residences with a wide range of amenities and features.
Buying a villa in Dubai makes sense if you have a large family and want more seclusion. In addition, there are a wide variety of villas to choose from in the city. We've produced a list of the best villa communities in Dubai to help you narrow down your options.
DAMAC Hills, Jumeirah Village Circle, Jumeirah village, Midriff and Al Barsha are a few of the most beautiful communities in Dubai for villas and townhouses.
DAMAC Hills
One of the unique projects in Dubai is DAMAC Lagoons, a new mega-project located near DAMAC Hills. Moreover, Malta, Santorini, Costa Brava and Andalucia's exquisite beaches are replicated in the waterfront community's fantastical design. The community features all the luxury amenities and creature comforts you'll ever need. It's including white sandy beaches, crystal blue lagoons, and a tropical island ambience. Moreover, it is for those who want to live an island lifestyle.
There are five-star homes and townhouses along the lagoon's boardwalks. The star-studded community provides a state-of-the-art fitness centre and sports hub. Moreover a business node, an adventuring node, a ladies' area, mosques, a hospital and a supermarket, and more.
There is a farmers market, a variety of ethnic cuisines, a community club, and various public event venues. There is a skate park and a kiosk area for residents to use.
Pros and cons of Damac lagoons

Residents of the lagoon neighbourhood may enjoy a tropical island vacation from the comfort of their own homes because of the abundance of water in the area.
DAMAC Lagoons offers a calm environment away from the city's hustle, and bustle, where you can take advantage of all the high-end conveniences life has to offer.
Resort features include artificial waterfalls, Malibu beach waves, water slides, and an opulent clubhouse for people who prefer to stay in the water for longer periods.

DAMAC Lagoons Cost of Living
In the DAMAC Lagoons development is also one of the most beautiful communities in Dubai for villas and townhouses. AED 1.7 to 1.9 million is the typical price for a three- or four-bedroom villa. Between AED 2.7 million and AED 2.8 million are the most expensive five-bedroom apartments in Dubai. At DAMAC Lagoons, you get a lot for your money.
DAMAC Hills
Trump International Golf Club's DAMAC Hills is one of our most popular gated communities. DAMAC Hills is a beautiful community in Dubai that provides its residents with world-class amenities. The neighbourhood mixes modern architecture, lush greenery, and a lively atmosphere. As a bonus, it's placed away from the city's bustle, allowing occupants to enjoy the peaceful surroundings.
DAMAC Hills provides a diverse range of villas, flats, and townhouses for people of all incomes, lifestyles, and preferences. Apartments, villas, and hotel suites are available for rent at DAMAC Hills.
For 3-bedroom villas, expect to pay at least AED 2.1 million. AED 2.4 million is the asking price for four-bedroom villas with stunning front yards and big balconies overlooking the development. 5-bedroom houses in DAMAC Hills typically cost around AED 5.4 MILLION on average
Juniper, Amazonia, and Claret are some of the most popular neighborhoods in DAMAC Hills 2.
DAMAC Hills Advantages

The four major highways that connect the area to the mainland, notably the Emirates Road and Sheikh Mohammed Bin Zayed Road, make it an exclusive gated community just minutes away from the city's business district.
Eco-friendly and sustainable, it is the first of its kind neighbourhood with many natural elements and open space.
Resort features include artificial waterfalls, Malibu beach waves, water slides, and an opulent clubhouse for people who prefer to stay in the water for longer periods.
Jumeirah Village Circle
Jumeirah Village Circle is a great spot to reside if you're looking for a tranquil suburb with all the conveniences of a big city. Off of the Sheikh Zayed Road, it borders Al Barsha to the right. Many of the city's most popular attractions are just a short drive away, including the Jumeirah Beach and the Mall of Emirates and the Dubai International Airport.
An excellent spot to raise a family, the neighbourhood is well-served by supermarkets, schools, shops, hospitals, cafes, gyms, and other recreational amenities. With more than 30 planted parks, the community is one of Dubai's greenest.
Village Circle benefits:

In terms of location, it's one of the greatest and most family-friendly communities in Dubai, with easy access to several of the city's most popular neighbourhoods.
Villas, townhouses, and flats of different shapes and sizes can be found in the area and at various price points.
There are all the necessities of existence within the boundaries of JVC.
There are approximately 30 parks in the region, making it one of the greenest residential areas in Dubai.

Jumeirah Village Circle's Cost of Living
The average price of a villa in Jumeirah Village Circle is between AED 1.9 million and AED 2.7 million, depending on the location. The area has a 5.22 percent return on investment (ROI), making it an excellent investment.
The average annual rental price for 3-bedroom villas in the area is AED 105,000, and for 4-bedroom villas, it is AED 113,000. Additionally, you can choose to live in either a villa that has already been lived in or a completely new one.
Jumeirah Village Triangle
If you're looking for the most beautiful communities in Dubai for villas and townhouses the Jumeirah Village Triangle is the ideal place to call home. The neighbourhood is extremely well-kept and provides all necessities for its residents' well-being.
Dubai International Airport, the Jumeirah Village Circle, Dubai Production City and Dubai Mall are just a short drive away from the neighbourhood. The neighbourhood is located between Al Khalil Road and Sheikh Zayed Road. As a result, homeowners will have easy access to a wide range of services such as grocery stores and restaurants.
Jumeirah Village Triangle advantages.

In the Jumeirah Village Triangle, you'll find anything from luxurious 2- to 5-bedroom villas. A wide range of freehold properties is also available through the company.
Walking routes, parks, and tennis courts are just a few of the many community resources available to residents. The hamlet also has an ENOC gas station on the outskirts.
The Jumeirah International Nursery, JSS International School, GEMS United School, and nearby hospitals and clinics are all high-quality educational institutions in the area.
The cost of living in Jumeirah Village Triangle
Jumeirah Village Triangle offers both rental and sale villas of various sizes. These villas cost an average of AED 1.1 million for one bedroom, AED 1.8 million for two, and AED 1.53 million for three bedrooms.
One-bedroom villas rent for AED 75,000 per year; two-bedroom villas rent for AED 105,000, and three bedroom villas rent for AED 120,000 per year.
Midrif
Mirdif is one of Dubai's most sought-after villa communities for families looking for a more relaxed pace of life. Uptown Tulip, Ghoroob, Shorooq, and Mirdif Tulip are the four subdivisions of the district. The area is home to the lovely Mushrif Park and stunning homes for sale with well-furnished rooms, gardens, and shared and private swimming pools.
It's a significant draw for big families to relocate to this area because there are so many nurseries and schools to choose from, regardless of where you reside in the school.
As there are no skyscrapers, high-rise hotels, or congested tourist sites in Mirdif, many people choose to live there to escape the city's congestion.
The Advantages of Mirdif

Villas in this area are fairly priced, roomy, and lovely; it's a great place for families. All of these condos have their own private or shared swimming pools, as well as large, well-landscaped backyards for entertaining.
Mushrif Park, which includes an adventure park, astronomy centre, an equestrian club, is one of the areas many green areas and parks.
The City Center Mirdif is located and provides shopping, dining, a hypermarket, and a movie theatre.

Living expenses in Mirdif
Buying a 3-bedroom home in Mirdif would set you back an average of AED 2.4 million. The average yield of the villas is 4.2 percent, which is very profitable.
AED 84,000 for 3-bedroom, AED 104,000 for 4-bedroom and AED 111,000 for 5-bedroom villas are the annual rental costs in Mirdif if you prefer to rent them out.
Barsha
If you're looking for a relaxed and unhurried way of life in Dubai, consider moving to Al Barsha. It's a terrific place to live because it has a wide range of options, from magnificent villas to one-bedroom studios to more cheap townhouses. It is possible to dine at a high-end restaurant one day and then at a more modest establishment the next.
Barsha Pond Park, a lovely spot for strolling, running, and taking in the scenery, is one of the area's many well-known landmarks. The Mall of Emirates, where well-known brands, a movie theatre, an arcade, and luxury restaurants can be found, is also nearby. Smaller shopping malls, including DAMAC Executive Heights, Al Barsha Mall, and My City Centre, offer a more intimate atmosphere at lower prices, may also be found here.
Al Barsha's Advantages

Since the region is located in the heart of Dubai, villas and apartments in the area are in high demand. The Dubai Marina, one of the city's most popular tourist attractions, is a quick drive away.
No matter where you're from, you may find a restaurant here that will satisfy your cravings for exotic flavours from around the world like Chinese, Italian, Pakistani, Indian and Greek.
Residents of the neighbourhood may easily reach the Smash Room and Jumble. In addition, there are numerous parks in the area that are ideal for jogging, cycling, hiking, playing sports, and more. Dubai International Airport and the Palm Jumeirah are also nearby.
Cost to live in Al Barsha
Villas in Al Barsha can only be purchased by UAE or GCC nationals or investors because it is a non-freehold community. 4 bedroom units in Al Barsha cost an average of 5.4 million dirhams (about $5.4 million). In comparison, 5 bedroom units go for a staggering 9.7 million. A 6.6 percent return on investment is available in the area.
AED 144,000 is the average price of a three-bedroom villa for rent in Dubai. For yearly rent, a five-bedroom villa in the United Arab Emirates can cost up to AED 231,000. Renting a property with a private pool is another option.
For more details please read: https://fajarrealty.ae/top-10-dubai-communities-where-you-rent-a-villa-or-townhouse/ or visit our official website: https://fajarrealty.ae/